Spring O spring don't come this year,
Cuz with blossoms and smells you'll bring a tear,
Or two to my now wet eyes,
And I'm hoping they would finally dry.
Each year you have been anxiously awaited,
With hopes and dreams, breaths bated,
For a season of happy swings,
The range of emotions these would bring,
From simple joy to ecstasy,
No one else I'd wish to be.
Go out with pals, frolic and celebrate,
Joie de vivre would not abate.
Dandelions, sour cherry and other flowers,
Getting caught in warm love showers.
Presents of many a thoughtful gesture,
Would then be the cause of (eye) moisture,
Unlike today whence each passing day,
Is sometimes a growing cause of dismay.
It seems that seven and twenty years past,
The skies must've been overcast,
With a threat of thunder showers and rain,
Of fears, trouble and to some, pain.
Chill in the air and grey in the skies,
Autumn - the name when hope dies.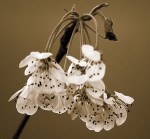 Spring to see and autumn to feel,
Oh it's a terrible ordeal.
Why don't you just vanish away?
And we'll pretend you ne'er came this way.
Come back when heart confirms what eyes see,
Not a cacophony but a sweet melody;
Not promises and hearts asunder,
Not painful showers following thunder.
Oh come back then and I'll wait for you,
I'll treat you good and give what's due.
I'll thank the Lord and say a prayer,
Not a tear I'll hide, but a laughter I'll share!